As you will know, baby skin is very delicate, and it gets irritated easily. Therefore, we should treat it differently from adult skin, protecting it from external agents and not only by using specific skin care products, but also by choosing the correct laundry products to wash baby fabrics. We highly recommend following these tips for a safe laundry wash of your baby items:
Always wash fabrics before wearing them
In the manufacturing process of clothes, blankets, sheets, towels and stuffed animals, the items are impregnated with chemicals to maintain their appearance, and dust gets into the fabrics when storing them in warehouses. To prevent allergies on your baby skin and other possible problems, we recommend to always wash your fabrics and new baby items before using them. 
Choose your detergent wisely
Look for laundry care products that are specifically designed for sensitive skin, with low amount of chemicals and with a pH level thought for baby skin. Choose detergents and fabric conditioners that are suitable for baby clothes and have a nice, pleasant smell. You can use Voyêtre fabric care products for washing your baby fabrics.
Always use the recommended dosage of product mentioned on the label. Using more product that specified on the product label will not translate in cleaner fabrics, but it will rather be a risk for your baby as the product may not be correctly rinsed from the textiles during the wash due to the excess of product and it may end up on your baby's skin, causing possible reactions.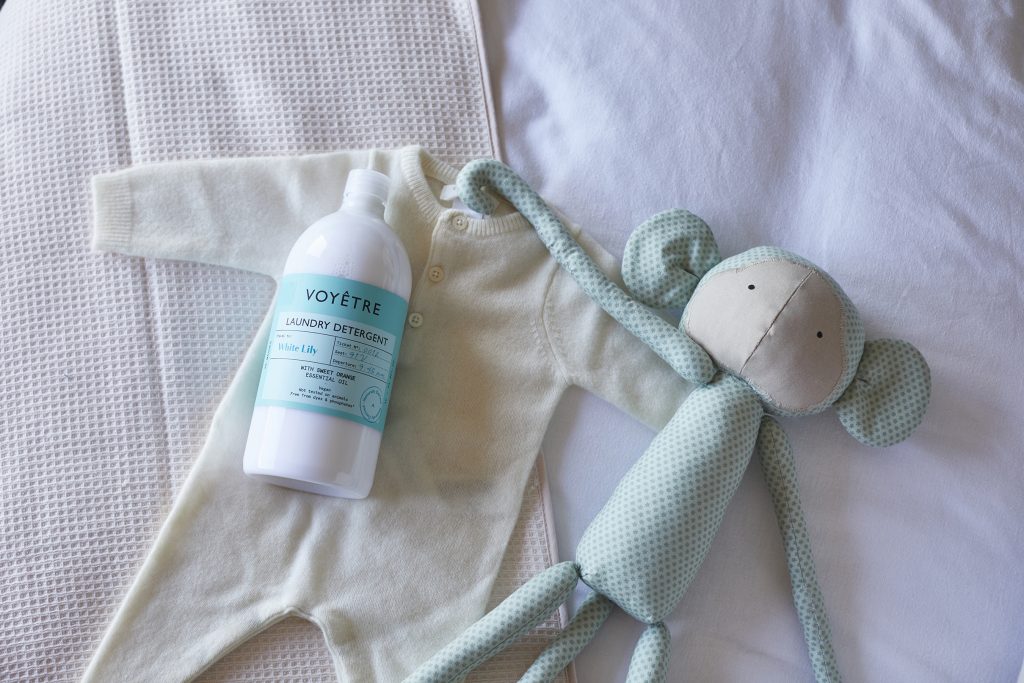 Hand wash or Machine wash?
You can either wash baby fabrics by hand or in the machine:
Hand Wash: As baby clothes are quite small, washing by hand is recommended in order to use less water in the process, as you would need a whole lot of clothes and items to place a full washing machine. Follow dosage instructions when hand washing and rinse correctly the items to ensure there is no product remains on your fabrics.
Washing machine: Use a delicate and short washing program, with low temperature and low spins. During the first 6 to 12 months wash baby fabrics separated from the clothes from other people in your home (parents, siblings, etc.). This way you will prevent certain substances that are attached to the fabrics from getting into you baby clothes and causing allergic reactions or skin irritation.
Ironing
Generally, it is not necessary to iron baby clothes. Despite this, there are certain fabrics that if we do not iron they might not look good due to the excess of wrinkles. For these cases, place a slightly damp cloth on the surface, to remove any possible residue that might be present. Use low temperature to avoid possible damages to the fabric, as they tend to be very delicate and smooth.
Remember you can follow these tips for washing baby clothes and also for cleaning and washing stuffed animals, towels, sheets, blankets and any other item that is in contact with your baby.
We hope these tips help you enjoy fresh clean clothes for your baby and have piece of mind, specially if you are a new mom taking care of the baby laundry task for the first time.