Winter is coming, and with it the season of wearing woolen sweaters, jumpers, scarfs and throwover blankets. If you love wool as much as I do, you also know that it is highly important to take care of this textile and ensure you do your laundry correctly to avoid harming the garments. It is considered a delicate fabric, so you must keep in mind the following tips when doing your laundry: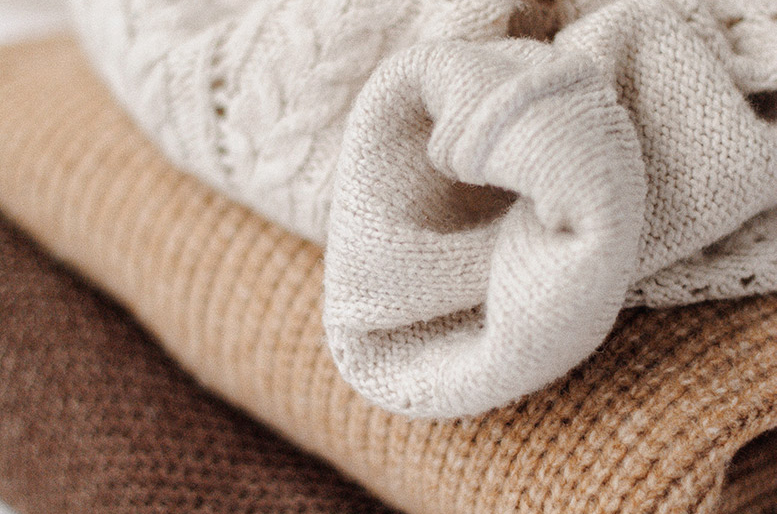 Delay as much as possible the laundry washes
There is no need to wash wool after every use. If it is not stained or smells badly, you can wear it a few times more. Due to its delicate fabric, it is not recommended to wash wool too often. We suggest freshening it up after every use with some Fabric Freshener. Our Voyêtre Linen Spray will help remove odours from the fabric and keep them fresh for longer.
If the garment has zippers or buttons, fasten everything before washing to avoid any deformation. Also remember to check all pockets are empty, as you would do with all other clothes.
If your washing machine does not offer a delicate programme or you only have a few woolen items, you can always opt for a hand wash. We recommend using warm water and a laundry detergent that is either suitable for all fabrics or only for delicate ones. Voyêtre Laundry Detergents are suitable for wool and other delicate fabrics such as cashmere and silk.
Do not rub the garment as we tend to do with other fabrics when hand washing. Due to its delicacy, we can cause the appearance of bobbling on the fabric if we do so.
Though many people think wool can only be washed by hand, the truth is we can also use the washing machine. Just look for a programme that is suitable for delicate fabrics in your machine. They use short cycles that do not exceed a temperature of 30ºC and with low spins. Use the same type of laundry detergents mentioned above.
Dry woolen fabrics horizontally to avoid deformation. Try not to expose them to direct sunlight. In terms of using the dryer, our suggestion would be not to do so, as it can cause the appearance of bobbling or shrinking. Nevertheless, nowadays many dryers already include a programme for wool or delicates and offer specific baskets for this type of garment. It all depends on the type of dryer you have at home.
If you have followed the tips mentioned in this article probably the garment does not have too many wrinkles. Nevertheless, if you love ironed clothes don't worry, you can use the iron. Ensure you use a temperature that does not exceed 110ºC – 150ºC, always iron the garment inside out and if it is still a bit damp even better.
We hope these tips help you enjoy clean and fresh woolen garments during the winter!